I wanted to write this when the weather wasn't so warm and bright (it is late-September right?) so that it would feel a little bit more appropriate; however, it probably makes more sense to publish this post now whilst you're appreciating all this wonderful sunshine we're having.
It is estimated that around 7% of the UK's population is affected by Seasonal Affective Disorder (SAD) every winter between September and April (particularly the chillier months of December to February). Even for the other 93%, getting up on a dark morning and returning home from work in the dark can really be a mental drain on you after a while and can negatively impact your life and work and in the home.
According to SADA, there are a few key symptoms that are linked to SAD:
Depression
Sleep problems
Lethargy
Over eating (NB: anyone with a poor diet does not have the right to blame it on SAD)
Loss of concentration
Social problems
Anxiety
Loss of Libido
Mood changes
Whilst many in the list above could also be symptomatic of some other problem (please seek the advice of a qualified medical practitioner if you aren't sure), one of the easiest ones shown that you can quickly and positively affect is the amount of sleep you are/aren't getting.
There are a few nifty pieces of gadgetry that you might want to consider purchasing before weather realises it's put summer and autumn in the wrong order this year and here are some you might want to consider:
Pure Twilight: No, nothing to do with moody teenagers stomping around woods and turning into rabid monsters. I'm starting off with this one because we have been using one for the last few weeks and it's made a real difference to our early morning starts. Interestingly, it's built on a Linux O/S but you can only update the firmware using a Windows O/S (well I found it interesting) using the USB connection. You can also flip between DAB radio, their own selection of relaxing sounds, or you could really push the boat out by plugging in your iPod/MP3 player and listening to wherever your mood takes you.
The best thing about this clock is that the light gradually gets brighter so that you're not yanked out of a deep sleep and clambering around for the snooze button. We also like the touch sensitive light and the knowledge the manufacturer will keep tweaking it.
It's not the cheapest around but the price tag reflects the quality. You might be lucky like we were to find a returned one on Amazon (other online stores available).
Find out more about it (including some lovely animations) here.
Philips Wake-Up Light: If we didn't buy Pure's version we would have ended up getting this one. The functionality is pretty much the same but it comes with less wake-up sounds (yes, I wanted more than four) although the halogen lamp is replacement (not sure Pure's can be).
Philips have a great range to chose from so it's worth having a look around and paying particular attention to what the customer reviews say.
Find out more about Philips' range of lights here.
Energy Lights: Now, I couldn't not mention these a) because I know of a friend who swears by this type of technology and b) because this woman is looking just so darned cheery because of it! Seriously though, the examples shown above are lights that get brighter or dimmer based on a timer. What these are are effectively light boxes specifically designed to help SAD sufferers cope better.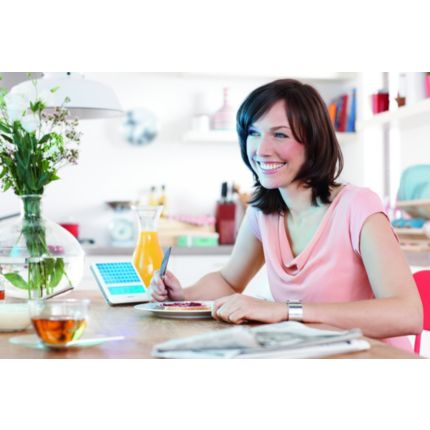 Earlier this year, the BBC broadcast a programme focussing on the importance of sleep and how a trick of the light can both wake you up and keep you asleep. It also talked about the importance ensuring we still receive the right amount of vitamin D to keep us on form.
Philips have two models available as do Sunrise System, Sunny and Diamond. In fact there are a fair few options for you if this is something you want to seriously consider. It's well worth shopping around and asking a few people who own them about their experiences.
Just don't leave the decision making too long, someone said there's snow on it's way for October and for those who do struggle with work when the nights draw in, it's something that could positively affect their state of mind.